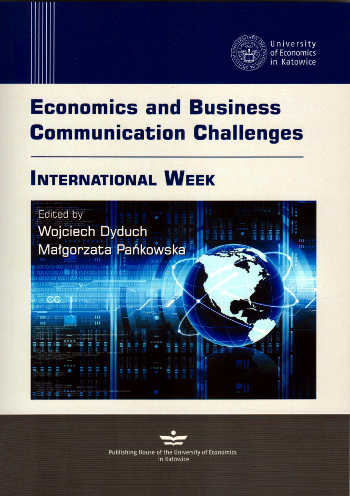 Publisher: Publishing House of the University of Economics in Katowice
270 pages
ISBN: 978-83-7875-220-2 (soft cover)
Economics and Business Communication Challenges
International Week
edited by Prof Wojciech Dyduch and Prof Malgorzata Pankowska, University of Economics in Katowice, Poland
Publication is co-funded by the Erasmus+ programme of the European Union.
Publication distributed free of charge
The idea of internationalization of university education is constantly considered as an important issue in institutional strategic development of higher education institutions. Although, academics and higher education managers are fascinated by the e-learning systems, Erasmus International Week educational events are able to provide idiosyncratic educational results. This educational approach is the process of integrating an international dimension into the research, teaching and services functions of higher education. The most important assumption, when talking about internationalization, is that it is identified with mobility of teaching staff. Therefore, internationalization concerns activities far away. It happens more or less as an extra-curricular activity, supplementing the established university courses according to the planned curricula.
More specifically the goal of this monograph is to highlight emerging research and practice at the dynamic intersection of economics, management and computer science, where individuals and organizations are harnessing creativity and invention to achieve and sustain growth.
This book will aim to provide relevant theoretical frameworks and the latest empirical research findings in the area of business communication and management. It is written by and for professionals who want to improve the general understanding of the strategic role of communication and management values in the distributed business environment and the necessity to protect and properly utilize the communication media at different levels of organizations well as in society. The general mission of this book is as follows: Assuming that business organizations as well as individuals are entirely linked together in Internet, a new approach to business communication and management must be developed that cover the estimation of synergy effects, the compatibility and interoperability problems, business and social value creation, and the overload reduction and information protection.